GJHS Principal Meghan Roenicke Resigns
Students and staff shocked by news that Meghan Roenicke, principal of 5 years, is resigning at the end of the school year.
Grand Junction High School's principal Meghan Roenicke is completing her last year at GJHS. She is resigning by the end of the 2022-23 school year.
Much of the staff and student population is surprised and feeling nostalgic about the news. Including Roenicke herself. 
"I'm going to miss my team. I love everybody that I've gotten to work within the main office and in the assistant principals offices, I'm going to miss people. Specific people. I will miss some very fine teachers," said Roenicke.
Roenicke has been the principal at GJHS for the last 5 years and an assistant principal before that, she worked here for a total of 11 years. 
She's built many connections and touched the lives of many during her time here. Brenda Pomeroy, a teacher here at GJHS said, "I look up to Mrs. Roenicke, I admire her a lot as a person, I also think she's a really strong professional leader. I think she has seen GJHS through some really challenging times, severe mental health crisis, COVID had a huge impact on the school community, and building a new building; I would say Roenicke is the reason that we're getting a new building. I think she is the reason we have adopted this academy model for the school community." 
In addition to staff, students at GJHS appreciated and will miss Roenicke and her work here. "I'm sad, I think that she was a great principal. I think that she did good things for the school and it's a little sudden. I think it's valid and she deserves the right to resign, but we'll miss her," Nataleigh Cornelison, a freshman at GJHS said. 
Roenicke enjoyed her time at GJHS and has been reflecting on her work done here.
"I don't regret one second of it," said Roenicke.
She made a large impact on the community of staff and students here. "She's the reason I stayed at GJHS and the reason I plan to stay here is because of this program (CTE program for kids at risk of dropping out)," said Pomeroy. 
Roenicke looks back fondly of her time here, "I hope I did right by the people that I've worked for." 
While hopeful, students and staff will highly miss Roenicke's influence here at GJHS. "It will look different, I don't think anyone can really fill her shoes," said Cornelison. 
As for the next principal, coming from Redlands Middle School, Jory Sorensen with a lot of knowledge and past experience will be taking Roenicke's place here at GJHS. This decision will be presented to the Board of Education on May 2, 2023, for approval.
View Comments(1)
About the Contributors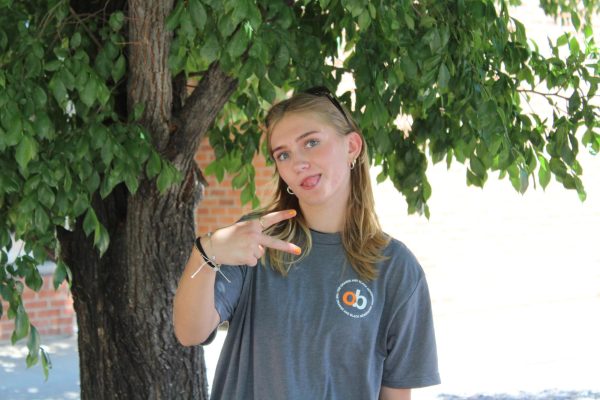 Marie Calkins, Copy Editor
Marie Calkins is a Junior at GJHS and the Copy Editor for the Orange & Black student newspaper. She also plays soccer and loves music. She first joined...
Hailey Shane, Reporter
Hailey Shane is a Sophomore at GJHS and a reporter for the Orange and Black newspaper. She really enjoys Ritz Crackers. She likes to make cake and put...