About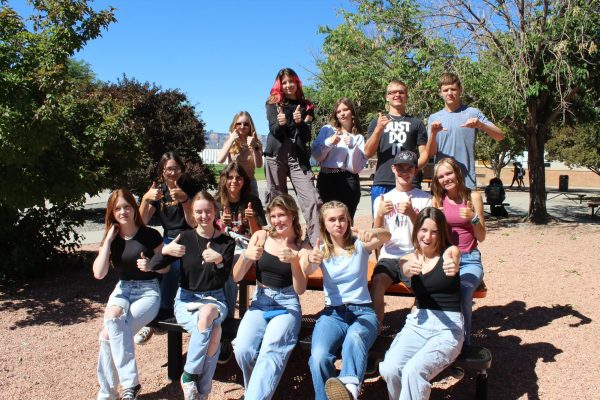 Policy
The Orange & Black, a legally recognized public forum for student expression, is published times a year by the Newspaper Class for students of Grand Junction High School. Expression made by students in the exercise of the freedom of speech or freedom of press is not an expression of District 51 school board policy. The views expressed in The Orange &Black do not necessarily represent the views of the entire staff, adviser, GJHS administration or the School District 51 administration. Board policy regarding student publications (JICE, JICE-R) is available in the journalism room (Rooms 140-141) or in the principal's office.
Letters to the Editor
The Orange & Black welcomes and encourages letters to the editors. This is a chance to express your viewpoint on important issues. Letters should be limited to 200 words. They will be edited for space and legal considerations, but not for inaccuracies, grammar or spelling. Letters must contain information pertinent to the students of GJHS. The staff retains the right to not publish any letter not meeting these requirements. Unsigned letters will not be published. The identity of letter writers must be validated in person or by phone. Please submit typed letters in person to Room 140-141 or via e-mail to [email protected]
Cost
Single copies free. Where available, additional copies of this paper are available for purchase for 50 cents each. Contact The Orange & Black for more information. Taking more than one copy of this paper with the intent to prevent other individuals from reading this edition of the paper is prohibited (C.R.S. 18-4-419). Violators, subject to prosecution and penalty under C.R.S. 13-21-123, will be prosecuted.
Contact
The Orange & Black, Grand Junction High School, 1400 N. Fifth St., Grand Junction, CO 81501.
Phone: 970-254-6929. FAX: 970-254-6973.
Web site: OandBnews.com.
Adviser e-mail: [email protected]
Some material courtesy of American Society of Newspaper Editors/MCT Campus High School Newspaper Service.
© 2018 The Orange and Black Grand Junction High School. All rights reserved.