Bored in Quarantine?
Now that we, as a school district, have officially exited spring break and entered "Coronacation" many are left bored and without anything to do. Fear not here's a list of ideas and resources you can use to cure your boredom.
Learn a new skill
Sure it sounds like "work" but it can be fun, and useful. On Khan Academy and similar sites, there is hour of code programs, where you can learn basic HTML, JavaScript, or SQL in an hour or less. Which is a useful skill, and something you could put on a resume. If that's not your speed another idea is to go on youtube and learn to crochet/knit, Michales is doing curbside pickup so you could get some yarn, safely. Maybe learn to knit and make your grandma a scarf in this time of worry.
Khan Academy: https://www.khanacademy.org/
Code.org: https://studio.code.org/home
Learn a language
Learn a language that isn't offered at school, did you know that Duolingo, a free language app, offers a wide variety of languages from Swahili to Czech, and even offers Klingon!
Duolingo web access: https://www.duolingo.com/courses  
Read a book, or two
It's not as bad as it sounds, reading for school can get boring, but reading on your own can be a lot more fun. Do you like history? Read about history. Single and wanting romance? Read a romance novel. The possibilities are endless. You can't exactly go to the library right now, but there are apps for that. Libby and Overdrive connect to your library and allow you to check out books digitally. Maybe reading is not your cup of tea, but maybe you would like to listen to a book. Audible is offering free audiobooks to students starting March 23, just access it from the link below!
Audible link: https://stories.audible.com/start-listen
Bake
You may not bake usually, but it's a great way to fill a few hours! Lookup a recipe or find one in your family's recipe books! 
Meditate
Stress is all around us in this time of global confusion. So taking 5 minutes to relax is an amazing idea. There are many free meditation apps that you can download! 
Get a penpal
If you're looking for human connection, while in quarantine, sign up for the penpal service linked below. It's verified anti-spam and checks all profiles before it lets you contact anyone. You can put in the desired age, gender, and region of origin. There are a variety of options to contact each other, you can say you want an e-pal or snail mail. Even a candy trade (you buy them candy from your home, and they do the same)
Global Penfriends: https://www.globalpenfriends.com/index.php?page=index
Draw with chalk
It may sound childish, but it can be really fun. Write your name, draw something, write inspirational messages. Plus it's an excuse to get out in the sun! If you want a more sophisticated look, maybe go for the puffy "chalk" that was used in the cover. 
Puffy "chalk" 
1 cup of flour
1 cup of water
About 1 tablespoon of any soap
5-10 drops of food coloring or acrylic paint 
The paint can get very thick, so in that case, just add water until the desired texture is reached!
Stay healthy, stay busy, we're all in this together.
About the Contributor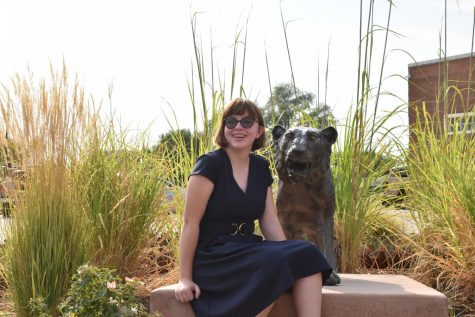 Izzy Cornelison, Reporter
Izzy Cornelison is a sophomore at Grand Junction High School and a reporter for the Orange and Black News. Some of her hobbies include performance and...