Q & A with Future Leaders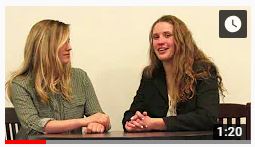 Q: What is your main focus as Head Boy/Girl?
Q: What do you want to change about GJHS?
Q: What does the position mean to you?
Q: 3 short facts
GAGE FINK
A: I want to bring together our community and make the school come closer together. I want Student Council and the student body to have a healthy communicating relationship.
A:I want to work on the relationships among GJHS so that toxic ones turn positive and we can have a closer community. Relationships between staff and students and students and Student Senate.
A: I want to make change within the school and hopefully have students look up to me.
A: I can't see color but can see a bright future with GJHS
I'm funny.
I do track.
Jake Griffin
A:My main focus as Head Boy is to make our students happier, plain and simple. I think student council in the past few years has declined on their passion and it has resulted in the students losing faith in StuCo. I want to listen to what the students want and try to fulfill their requests and make our school happier and more spirited.
A: I want to change the relationship between the leadership and the students. right now we have a "student's vs. admin" idea going around the school, and I want to help bridge the two together. showing that admin really cares about the students and so do I.
A: Head Boy means to me an opportunity to leave this school better than i came into it. it's more than a title, it's a responsibility of setting the example of what our school really is. we don't want to be the joke school with no spirit, we want to be a powerhouse that everyone else fears, and i want to spread that idea to all of our students.
A: I like to play chess, I have DJ'd our last few school dances, and I really like musicals.
Carissa Crawford
A: To better connect the student body with admin and make it a fun year for students so that pride can be better developed.
A: To make it a better community and boost spirit.
A: It is a great leadership position that gives me the opportunity to positively influence my peers.
A:Facts:
I love to shred the pow
My puppers name is Tuttle Tango
I thrive under traveling conditions like traveling the Globe
Carissa Crawford
Jake Griffin
Gaege Fink