GJHS winter sports season wraps up
Grand Junction High School had some amazing participation in this year's winter sports.
"I really enjoyed watching our boys, and girls compete hard on the court, in the pool, and on the mat. I was really excited for two new head coaches to the Tiger family," said GJHS athletic director Steven Woytek.
The wrestling season included highlights for GJHS competitors. Four wrestlers made it to state: senior Colton Romero wrestled in the 138 weight class; senior Landon Scarbrough wrestled at the 126 weight class; and senior Murphy Harris wrestled at 120 pounds for the boys team. GJ freshman Rya Burke qualified for state and took 5th place representing the School District 51 combined girls wrestling team called the Phoenix.
"Obviously everyone strived hard to do the best they can and go as hard as they can. With each sport, we had some individuals in girls' swim that did very well at the state competition in addition to boys and girls wrestling we had a girl finish, place in girls wrestling and guys competed well in state for the boys," Steven Woytek said.
The boy's basketball season ended with an 8-15 record. Sophomore Will Applegate averaged 9.3 points per game with a total of 214 points this season for the Tigers. Senior Cameron Ochoa averaged 6.9 points a game with a total of 158 points this season. Junior Brett Woytek averaged 4.2 points per game and a total of 143 points total. 
Steven Woytek said, "Well it might have seemed rough with wins and losses. They competed well, improved from the first game to the last game, and came together as a team. You can see their comradery, their spirit, their energy."
The GJ girl's basketball season was 0-23 for the season. Junior Nerea Sills averaged 5 points a game with a total of 99 points this season. Freshman Ella Alderman averaged 2.8 points and senior Riley Applegate avenged 2.5 points a game.
"I know a lot of times in our society we measure success with wins and loses but for them  they put everything together they were asked to do and the wins will come because of that work," said Steven Woytek
The GJHS swim team had five individuals qualify for many events in the class 4A meet: sophomore Kylee Mull qualified for the 100-yard breaststroke; senior Olivia Langer and freshman Emily Hardin qualified for the 50 freestyle; senior Abby Price qualified for the 50 freestyle, 100 freestyle, 100 backstroke, and 100 backstroke; and sophomore Whitney Stortz qualified for every individual event except for the 500-yard freestyle.
Stortz went on to finish 5th in the state in the 100 freestyle (53.17 seconds) and 8th in the 50 freestyle (24.55 seconds).
View Comments (1)
About the Contributor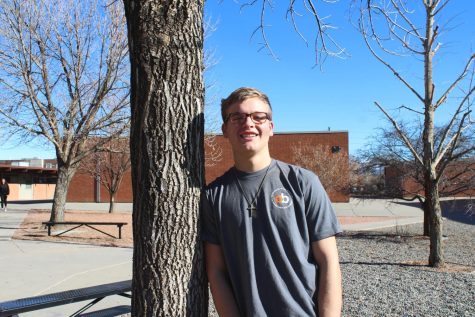 Spencer Penkaty, Reporter
Spencer Penkaty is a sophomore at GJHS, and a reporter for the Orange and Black student newspaper.  He enjoys competing in sports like soccer, track,...