GJHS student raising money for kids
Fundraiser going around campus to help put a playground at Pathways Shelter
A Grand Junction High School sophomore started a fundraiser in support of building a playground at a local homeless shelter.
The current fundraiser going around GJHS is by Kayla Jakopic. She is a sophomore in Jodee Cronk's agents of change advisory. Jakopic has placed buckets into every classroom for students and staff to place money into.
Cronk has been running the agents of change program for five years. In this program students helped plan and start the Tiger Boutique & Haberdashery, started Planeteers Club, and now Jakopic is leading a fundraiser to build a small playground at Pathways Shelter. Pathways Shelter is a safe place for families in need.
"I see a lot of homeless people around and it makes me really sad to think they don't have good experiences like the rest of the other people," Jakopic said.
Jakopic remembers seeing kids around town who were less fortunate and were homeless. She wanted them to have the same positive experiences at a park like she did.
The service learning program has been at GJHS since the Fall of 2018. It was started by Cronk and Ari Goldberg. Goldberg was a former principal of GJHS. This program has created ideas to help students and staff around campus that will begin here and move over to the new school.
Cronk said, "I spent the summer of 2018 researching and designing a program for kids to help our school and Grand Junction."
Jakopic started planning this fundraiser in her freshman year. She is currently at $1,000 from previous donations.
The service learning fundraiser is set to close on Feb. 2. The third hour class that collects the most money for the fundraiser will receive breakfast provided by Cronk.
Leave a Comment
About the Writer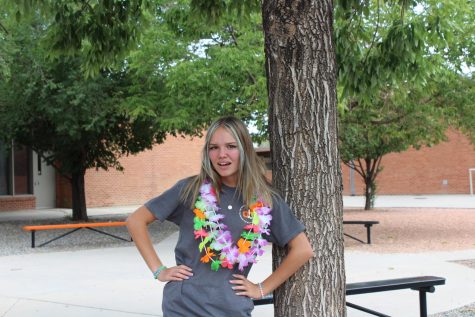 Maddy Parkhurst, Photo Editor
Maddy is a sophomore photo editor on the Orange & Black newspaper staff. She joined her during her freshman year. She enjoys watercolor painting and...