GJHS student is a National Merit Semifinalist
Senior Cailan McKim draws praise as an excellent student and person
Grand Junction High School's own Cailan McKim recently landed a huge accomplishment due to his test scores.
McKim is a senior at GJHS. He has recently been deemed a semifinalist for the National Merit Scholarship Program. McKim was one of 16,000 semifinalists nationally. This opportunity gives him the chance to win $2,500 towards college. 
McKim is applying to several colleges, and has backup options. His hope, for now, is to attend California State Polytechnic University, Humboldt in Northern California, to study marine biology. 
McKim does nothing to study for exams such as the SAT, besides his hard work in school leading up to it. He has taken the SAT multiple times for various reasons, which likely helped his impressive score for the National Merit Exam. 
"It was mostly due to the questions that happened to be on the test and my previous knowledge of them," said McKim. "I don't think what I learned for that school year specifically counted much toward my score."
McKim said that the hardest and most rigorous class he's taken during high school was AP Calculus. He said he generally finds math to be more difficult than most subjects.
Regardless of his score, McKim remains humble.
"I've tried my best, that's what counts," he said. 
Despite his academic work in school, McKim is involved in the GJHS Marching Band and is on the Academic Team, which he went to nationals with last year. He's currently the only pianist in the band. 
"To be honest, I don't do that much out of school because usually my time is taken up practicing for either marching band or the academic team, or doing homework and studying," McKim said. 
When he does have free time, he likes to sometimes write or play music of his own. 
McKim said he considers many of his teachers to be his mentors over the years. However, he listed Coady Shawcroft specifically as a key mentor in his academic career, due to the fact that he coaches the Academic Team. 
"Cailan is one of the best students that I've ever had. He's like a sponge of information," Shawcroft said. 
As well as Shawcroft's admiration for McKim as a student, he had much more to say about him as a person. 
"I think that maybe some people are intimidated by his intelligence, but he's really a nice person," Shawcroft said.
He also added that he thinks McKim's best quality is his sense of humor. 
McKim has clearly excelled in school, and with efforts like his, an opportunity like this is well deserved. When asked what his motivation was he replied: "I don't want to see myself fail, but the truth is I fail at a lot of things. I don't always do what I set out to do. Things don't always go according to plan and I accept that, but sometimes they do and it's those moments that I remember."
Final National Merit Scholarships will be announced in four rounds from April through July.
View Comments (2)
About the Contributor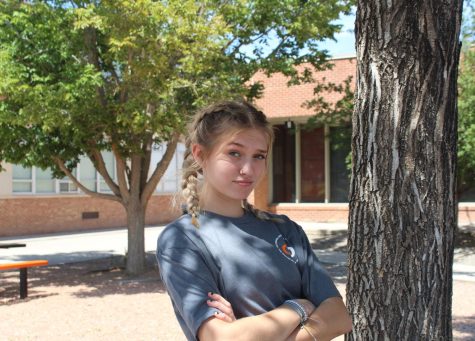 Marie Calkins, Reporter
Marie Calkins is a Sophomore at GJHS, and a Reporter for the Orange and Black Newspaper. She also plays soccer for a club and for the school, and loves...