Super high enrollment at GJHS
Huge freshman class causes increase and some issues around campus
The population at Grand Junction High School has increased significantly the past two years.  According to school data, GJHS has a total of 1,567 active students, 901 of which are underclassmen.
That has led to a range of negative feelings expressed by upperclassmen. Constant traffic during passing periods inside and outside the school leaves a baneful experience for many.
"Freshmen don't know courtesy in the hallways and outside," said GJHS junior Denae Caudillo. "They walk in groups in the street and I have to wait for five minutes."
Similarly, GJHS senior Lily Lofland has experienced a lack of courtesy.
"It's hard to get to classes," said Lofland. "I have to wait five minutes to go up the stairs to find a gap and cut in between everybody."
 Before, the hallways had two lines for each direction, and now it is a mixture where many have to wait and find a gap. At lunch students usually wait for passing cars, but now many just run across without care for incoming vehicles or their own safety.
As of Sept. 8 there were 486 freshmen, 415 sophomores, 347 juniors, and 317 seniors. In total there are 1,567 students who are actively attending GJHS this year. There were 1,401 active students enrolled at GJHS in September 2021, according to school registrar Andrea Lee.
Whether underclassmen are truly the only ones creating chaos in the halls is dependent on who you ask. To get to classes on time, many students have created new routes. Most upperclassmen used to rely on the staircase near the front entrance next to the vending machines, but now many switched to stairwells off to the side.
"It's difficult if you don't arrive at school 20 minutes earlier," said GJHS junior Alex Rowell.
During the beginning of the school year lunch starts off with students utilizing a friend to save spots in the commons and cafeteria. Off-campus lunch usually ends with rushing mobs of students and vehicles attempting to reclaim parking spots. Other students have ordered online and picked up their food through GrubHub, DoorDash, and restaurant websites. It eventually begins to settle down as the school year continues on.
"I have to really look for parking in any close parking lot," said Caudillo. "Or park across the street where the 800 building is."
Students at GJHS have also begun to notice that with the growing population more and more students are needing parking spaces. Paking is more difficult with fewer spots this year due to the construction of the new school building.
View Comments(1)
About the Contributor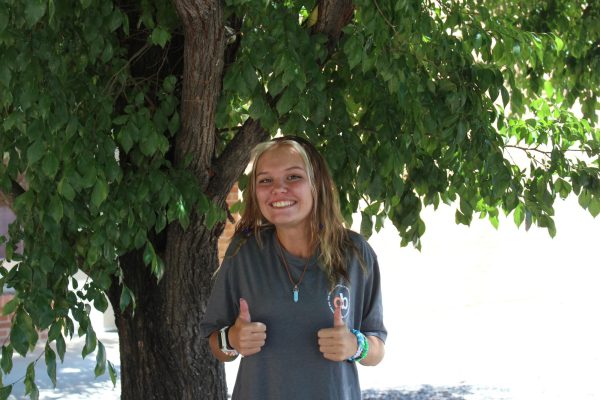 Maddy Parkhurst, Managing Editor
Maddy is a junior and has been with the orange and black since her freshman year and she was a photo editor last year. This year she is managing editor...