Bugs vs. Batman
Multiversus is popular new game at GJHS
Multiversus is a Smash-like game recently released and gamers at Grand Junction High School couldn't be happier as it has soared above expectations.
Multiversus is a Warner Bros. game made by First Player Production that was  released to the public July 19, 2022. It is possible to play Multiversus on Ps4, Xbox One, and computer.
"It is bringing all the characters people like into a '"Smash Bros' like game," said Grand Junction High School junior Carl Lampitt.
The main drive of the game is that it brings all the characters across decades together. The wide range of characters from Warner Brothers includes Batman, Iron Giant, Finn the Human,Tom and Jerry,Shaggy and a brand new original character Rain Dog created by First Player Games.
 "I think it's a fantastic game. I love the fact they're adding a whole bunch of characters and they're expected to add a bunch more," said Grand Junction High School junior Sean Mccallum.
The main difference between this game and Smash Bros, is that Multiversus has more of an emphasis on teamwork and 2v2s than most fighting games.
"The most fun I've had is playing with my friend on 2v2,"  said Mccallum. "It's just a whole bunch of fun to play together to destroy your enemies' days."
Not only that but to some the game has a lot more customization than Smash Bros. Gamers can have custom announcers and custom death animations. When players equip a skin the voice actor changes and their voice lines change.
"It has a lot more character to it unlike Smash Bros," said Mccallum.
Another big thing about this game is it is completely free and has a system much like Fortnite with battle pass emotes and skins being unlocked. The microtransactions are not as marketed towards players like Fortnite.
" I like how accessible it is.It's free to play and nothing is locked behind a paywall," said McCallum.
The future of Multiversus is exciting for many gamers of Grand Junction High School.
Leave a Comment
About the Contributor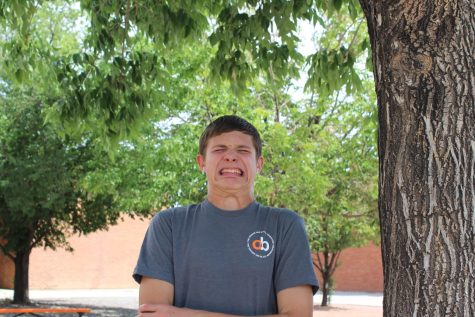 Connor Kinser, Reporter
Connor Kinser Started writing papers in his freshman year for the second quarter of high school. He joined at the start of his sophomore year. I enjoy...