Color Dance Follow Up
To welcome the start of the 2019-20 school year, Advanced Leadership Team (ALT) students organized the Color Dance, which was held on August 23.The dance was held in front of the band field, and required a $10 entry fee.
Event proceeds will be contributing to collecting prizes for the halftime shows that  ALT would like to do, along with supporting the ALT program and other ALT events. The total amount raised from this school dance could not be disclosed.
"For ALT [the money collected] would be for the lock-in, so we can have food for the lock in, and paying for basically clean up afterwards," Math Teacher Russel Gregory said. "So we can help take care of our custodians." 
Attendees were encouraged to wear white, and the 'color' part of the dance was colored chalks, in green, yellow, orange, pink and purple, were available in small plastic bags for $1 purchase each.
These chalks were thrown on everyone and everything inside of the dances' expanse. "[The dance is going] great, but also painful because I got so much powder in my eyes," freshman Ab Gandy said. "and I've been crying the whole time." 
The dance was open to all high school students, with the proper paperwork and school identification. "It's pretty fun," sophomore Kaya Kirnie said. "There's lots of people throwing colors this year." Kirbie believes the only thing that could have improved the dance is for "more people to show up." 
About the Writer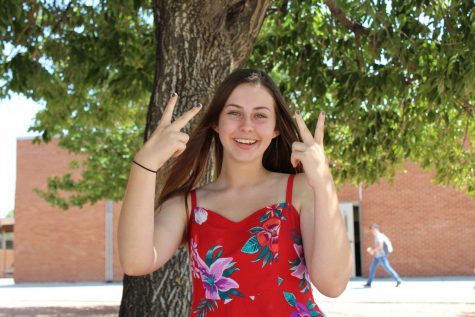 McKenna Bryant, News Editor
McKenna Bryant is a junior at GJHS and the News Editor on the Orange and Black Newspaper. McKenna loves music, animals, movies, writing, and to travel....