We Are Here to Help You Bundle Up
GJHS' second Clothing Drive hosted by Clothing club.
Hang on for a minute...we're trying to find some more stories you might like.
Walking down the hallway most people aren't aware that not everyone has access to the bare necessities such as warm clothes for the oncoming cold season. But now, thanks to the Clothing Club, students can go "shopping" for those needed items.
"I had a student come to me, Avery Grethel, I don't have her in class or anything but someone told her that I would help her," Jodee Cronk, the French Teacher at GJHS, said," She had noticed that a lot of students, as the weather was getting colder didn't have nice warm winter clothes. She was concerned about that. Avery started talking to friends, putting out advertisements for people to donate clothes."
At these shopping events there are no other students in the room which helps prevent anyone from being embarrassed or intimidated during the event. It remains a completely anonymous process. "
"We've had one shopping event so far, and we'll have another one Friday the 16 during lunch and after school where students in need can come and get warm clothes to help them through the winter," Cronk said.
Extra clothes will be stashed away and accessible during the year for students as they need them. This is the second year the "shopping day" has been held and the club has seen great success and benefits from students at our school.
"Eight or ten students came through the last time we did a shopping day, but they weren't just shopping for stuff for themselves, they were shopping for their siblings and sometimes parents too. We outfitted eight to ten families which is pretty awesome," Cronk said.
The group plans on doing this again in the spring for warm weather clothes and then again next year.
"I think it's really beneficial because some people just don't have those resources. Grand Junction can have pretty harsh winters sometimes, so it's really helpful,  especially since it's anonymous, so it's not putting people on the spot or making people uncomfortable," Carissa Crawford, junior and Clothing club member said.
Students are not allowed in there during the time so it remains completely anonymous. Mrs.Cronk is the only person in the room apart from those shopping.
If you are a student that needs these resources remember that this will be happening several times throughout the year. All you have to do is look for the posters around the school or listen for the morning announcement in order to get some warm clothes to fight off these cold months.

About the Contributors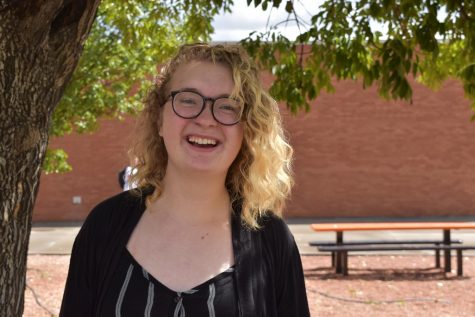 Sophie Middlemas, Online Editor
Sophie Middlemas joined the Orange and Black Newspaper her sophomore year and has loved being apart of the staff since. Sophie loves to write and has found...