Thanksgiving Traditions
Thanksgiving is a time for families to gather around and eat the classical turkey meal and share what they are thankful for. This is the most common tradition for Thanksgiving to most families, but the students and teachers that attend Grand Junction high school choose to not follow these basic trends.
Sage Skinner is one of the many students who celebrate Thanksgiving in a unique way. She does not fit the criteria of eating turkey due to her diet. This has resulted in Skinner and her family to find new ways to celebrate the holiday of giving thanks. Skinner now goes back to the traditions of 1621.
"On Thanksgiving I don't eat turkey because I'm a pescatarian, so my family and I eat crab legs. It is important to my family because when they had the original Thanksgiving, they didn't eat turkey, they ate seafood. It is interesting to think that our traditions have changed so much. It's cool to have my family to go back to the basics of eating seafood," Skinner, junior said.
There are many different traditions that  families do, such as Mrs. McCune, a literacy teacher at GJHS. She and her family believe in following another direction. For McCune, thanksgiving is still an important holiday to give thanks and wind down with one another in her family.
"We do what is called a not traditional Thanksgiving where we ditch the turkey and the gravy and all of that stuff, and everybody chooses one dish that they really like to eat and then we just serve that. Thanksgiving is great to spend time with family and relax and enjoy each other's company," Mrs. McCune said.
Whether families spend Thanksgiving eating turkey or a meal of their own choice, everyone can agree that Thanksgiving is focused on being thankful for those around us and spending time with loved ones.
About the Contributor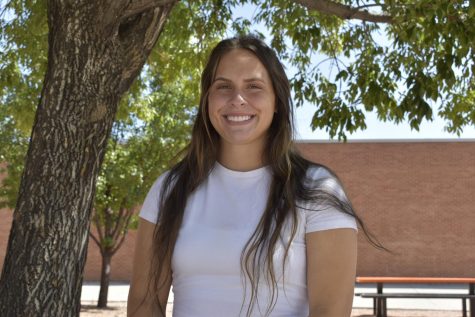 Madi Martinez, Editor in Chief
Madi Martinez is a senior at Grand Junction high school. She has been apart of the Orange and Black Newspaper since her sophomore year. She began as a...