UPDATE: School-Based Health Clinic in GJHS rejected by school board
The final decision for the potential Marillac school based health clinic was made March 7 by a 3 to 2 vote
The Mesa Valley District 51 school board made a final decision not to have a school-based health clinic inside the new Grand Junction High School at a March 7 meeting.
Due to recent controversy and a lawsuit against Marillac Health, school board President Andrea Haitz, Vice President Will Jones, and Treasurer Angela Lema decided to vote against the inclusion of a health clinic in the $144.5 million new school in a vote ending with a 3-2 result. The main reason named for this decision was the recent lawsuit filed against Central High School's health clinic, which is also run by Marillac. 
A statement was read before the vote was made.
"On Wednesday, February 22, 2023, an anonymous email was sent to D51 and the board via the feedback form from the district website. The email stated that a lawsuit had been filed in Mesa County and cited the allegations and the case number. The complaint alleges fraudulent misuse of school-based health center grant money for the clinic housed in Central High School. This is all that is presently known by D51 and our legal team is monitoring it closely," Haitz read.
Marillac officials have since responded that the claims are by a former employee who felt discriminated against in their workplace at Marillac. Because of this controversy, along with parental concerns, the majority of the school board felt it would be the best decision to keep Marillac out of the new school's plans. 
However, Haitz stated that she "would still be open to the conversation" of an alternative to the school-based health clinic. And Jones agreed that there could be alternatives outside the building.
"I'm not saying 'no' because it shouldn't be there or doesn't need to be there," Jones said. "There's a lot of things going around about 'We're not in this business, we're not in the health business,' but technically, if you want to speak about it, we're all in the business somehow. We're parents, we're counselors, we're doctors, we're mechanics, we're plumbers, whatever."
School board members Doug Levinson and Kari Sholtes voted in favor of a health clinic inside Grand Junction High School. Both explained their cases before the vote was cast amongst the board.
While making his case, Levinson said, "I focus on what's best for kids, and this, for me, is a no-brainer."
Construction will continue without a school-based clinic included in the GJHS building that is scheduled to open in Fall 2024.
View Comments(1)
About the Writer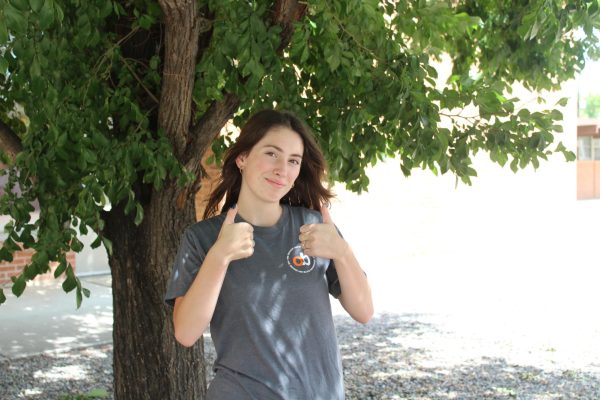 Lila Mottram, Online Editor
Lila Mottram is a junior at GJHS and the online editor for the Orange and Black newspaper. This is her second year on the O&B team. Besides writing,...