Chromebooks enhancing learning at GJHS
GJHS experienced a major shift in their learning styles in 2020. When the world went on lockdown because of COVID-19, students and staff transitioned to online learning. Even two years later, we are continuing to experience the effects of technology use in the classroom. 
"I was in eighth grade [when] we started the transition," said Jamison Whiteford, sophomore. Whiteford has only known high school with the ability to carry around a Chromebook in his backpack.
"I don't have the option to get a laptop of my own," said Whiteford. Providing Chromebooks for every student creates more opportunities to learn.
"I think it helps to share information, and by typing you can delete notes and take notes," said freshman Adam Pramenko. Pramenko believes that Chromebooks have enhanced his learning experience.
"You can share documents with others, and copy and paste big sections if you need to and I can type much faster than I can write," said Pramenko.
Makayla Mai Dao, senior, also believes having personal access to technology such as Chromebooks has made schooling more convenient when it comes to doing and turning in assignments. 
However, a downside of using technology is keeping your device charged. Many students show up to class with dead Chromebooks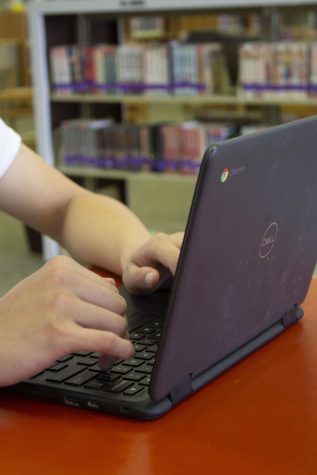 making them obsolete. Mai Dao also mentioned there is always Google Classroom to do school work even if you are absent.
"There is really no excuse if you're in quarantine you can't catch up," said Mai Dao. Most teachers have been posting their lectures online or have been using their previously recorded lectures when students cannot attend class. Now, students can still do their schoolwork whether or not they are at school.
"We've moved away from having to print off 3 million copies to pass out to students because we can put it on Google Classroom," said Mr. Weekley, social studies teacher at GJHS. Mr. Weekley is one of the teachers at GJHS who heavily relies on google classroom for daily assignments.
"I would say that technology makes it easier [for my students] to do group projects," said Mr. Weekley. Mr. Weekley teaches via technology to allow students to share Google documents with each other so that they could work together in a faster and easier manner than trying to share information on a single piece of paper.
"Take out your Chromebook and here we go," said Mr. Weekley.
Leave a Comment