GJHS enrollment spikes for the first time in five years
GJHS has experienced a large increase in student enrollment in the past year. While some might view increased enrollment negatively since classes and hallways are fuller, GJHS principal Megan Roenicke could not be happier. 
"The culture here has shifted here in the last few years and I think for the most part, we have a healthy, vibrant, educational community that people want to go to," Roenicke said. 
Since 2019, enrollment numbers had been on the decline. The bond issue concerning funding a new GJHS building, which failed in November 2019, is considered by some to be a trigger for shrinking enrollment numbers that continued until the start of the 2021 school year. 
"It's really nice, we are getting full again. I think Junction got a lot of good press last year which combatted some of the bad press we got during the bond season," said Roenicke.
Redrawn school attendance borders, returning students from the online format, and the new P-TECH (Pathways in Technology Early College High School) program GJHS is now offering are some of the reasons enrollment numbers are higher than they have been in five years. 
COVID-19, of course, skewed enrollment numbers because many students were uncomfortable with attending in person with masks and opted for the D51 Online School during the 2020-21 year. Now students are back in person and the halls are once again packed with students.
"I think most of my classes are big classes and I see a lot of new people," said Michael Taylor, senior. 
Roenicke speculates many students this year are attending Junction because of the relaxed mask policies in the school district. She thinks that families have been on the move for the past year looking to settle where their kids can attend school without mandated masks. And, with the redrawn attendance borders, the freshman class is bigger than it has been in five years. 
"I think we had a lot of interest in our PTECH program, so we have a lot of kids who came here for the academics," said Roenicke. 
Although both Central High School and Fruita High School also offer P-TECH programs, the program at Junction is based around health sciences/professions. Junction also offers a wide variety of honors and advanced placement classes that attract students every year. 
"1,600 students allows us to run a nice selection of offerings in our master schedule… it's a nice fill rate for courses," said Roenicke. 
The more students who attend Junction, the more classes that can be offered. Classes such as AP Chemistry that have previously only been offered every other year, can be a more permanent fixture, as there are enough students to fill it. 
"I'm excited because there are more people to do more things for sports and other activities," said Taylor.
More students also means a potentially bigger staff in order to manage the influx of students. On the other hand, it could also just mean larger class sizes and teacher flexibility to accommodate the growing number of students. 
Now, teachers who previously taught one subject, after the staff cuts last year and the increase in students this year, have taken on new classes they might not have previously taught. Matt Hurni, for example, has previously only taught math classes. This year, however, he has also taken on physics so that it can still be offered.
"It's a wonderful problem to have, that we are too full, especially after being under full," said Roenicke.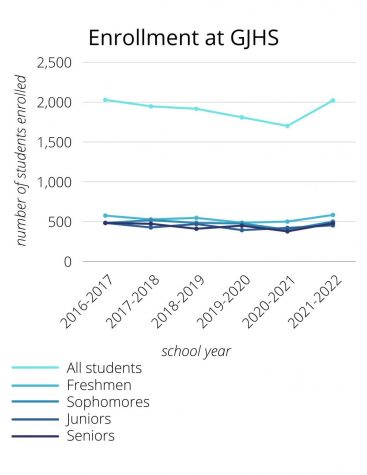 Leave a Comment
About the Contributor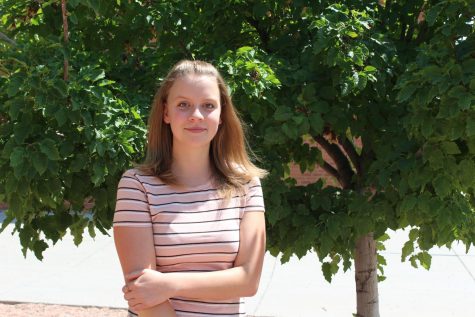 Ashley Guddat, Editor in Chief
Ashley is so excited she is a senior this year! After being a section editor for news during her junior year, and a reporter during her sophomore year,...