Six Teachers Move to Online, Students Have Major Shifts in Schedules
On Monday, September 14th 2020, six of our own teachers at GJHS Eric Farmer, Stacy Keever, Carrie Thornton, Carrie Imel, David Smith, and MaryLou Wetherstein will officially transfer to the online school where they will fill much-needed positions in their respective subjects.
"I know it's inevitable, but that's not to say that it's upsetting because it is," Farmer said. "I'll miss the interaction between me and the students, I mean we build relationships. Teachers, by definition, are gregarious, I mean we wouldn't be hanging out with teenagers if we didn't like it." 
As of now, the online school teachers have on average 200 students each, which means there is a desperate need for more teachers online. Teachers from all across the district have been required to make a transfer to help out in the online school. Teachers who have gone online are guaranteed a job within the district next year though there is uncertainty if they will come back to their old position.
The teachers moving online were a mix of volunteers and probationary teachers– meaning it was their first, second, or third year of their careers. Teachers who have deep roots or have been teaching at GJHS for many years are more likely to return to their old positions than probationary teachers who are subject to movement on a whim at the district's instructions, Farmer said.
This will be a monumental shift for our school this year. Not only will it affect the teachers leaving, but also the administration, the teachers staying, as well as students. According to principal Meghan Roenicke, about 1,000 students have or will experience a schedule change as a result of the teachers leaving this year.
"It's kind of sad but we are not too deep into [school] so it is not so bad," Nikki Maas, a student in Thornton's Composition 10 class, said.
On Monday Maas and her entire Comp 10 class will be shifting as a unit to a new teacher. Roenicke said students with a schedule change will either individually move to a new class, move with their entire class to a new teacher, or their class might be assimilated into another class of the same subject with relatively low numbers.
Overall, teacher's classes will get bigger which will make social distancing, which was difficult beforehand even harder, and some classes with especially low enrollment may be dissolved altogether. 
Classes that are required to graduate are being prioritized which means specialized classes such as zoology, AP Statistics, Physiology and Anatomy, and others may be cut from schedules so teachers can take on more sections of general classes. To prevent this from happening to a large degree, some teachers have taken on an extra class and will get paid a stipend. 
Mythology, which was going to be dissolved, was taken on by Steve Brown and Justin Whiteford. Other teachers who are highly qualified in multiple areas have offered to take on a section of another subject.
"People are willing to help out wherever they can, we have a really giving staff," Roenicke said. 
Although these changes will be difficult for everyone and the staffers going online will be greatly missed, the GJHS staff and administration handled the problem with benevolence and selflessness.
"It was nice to see the staff rally as they did. They supported each other and they supported kids. I feel very proud and grateful to be a part of a staff that operates as they do," Roenicke said.
View Comments (1)
About the Writer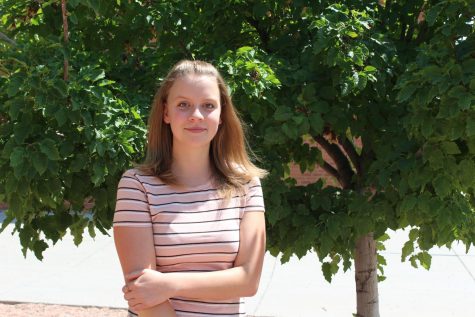 Ashley Guddat, Editor in Chief
Ashley is so excited she is a senior this year! After being a section editor for news during her junior year, and a reporter during her sophomore year,...