Schools to Remain Closed, Students and Staff React
On April 21, Governor Polis announced that Colorado schools will remain closed to take precautions against the coronavirus. Though some schools have shut down completely, District 51 schools will continue with distance learning as we have been doing since spring break ended. 
Teachers will continue to post a few lessons or assignments a week to maintain some level of learning. According to English teacher Megan Read, the new/evolving way to approach grading will be to make sure students are staying somewhat engaged, rewarding them with positive grades and to be forgiving with late work. 
"I also have students who have stressful or precarious home situations due to a number of factors, so I am definitely trying to take that into consideration when assigning and grading work," Read said. Completing the entire curriculum through online platforms is impossible, since many students face adversities at home, so Read, along with other teachers, is trying to prioritize the important fundamentals.
"It is difficult feeling like you cannot provide students with everything they need," Read said. "It is, however, comforting knowing the whole world is in a similar situation right now, and we're all trying to do the best we can under the circumstances." Dannon Yake, sophomore, is disappointed about not returning to school and what that means for her learning.
"I'm a little sad that we are not returning to school. I personally enjoy learning in person," Yake said. "I am mostly worried about my AP test and just finals in general."
Closing schools not only means no in-class learning, but also the cancellation of all extracurricular activities and athletics through the rest of the year. 
Paul Cain, District 51 athletic director, said that the ramifications of COVID-19 on athletics has been substantial. 
"Our spring sports season is officially cancelled, and there is no contact between coaches and players until at least June 1," Cain said. He also said that there had been talk of the fall sports season being postponed depending on the situation as we get closer to it. 
Cain suspects severe budget cuts from the state of Colorado, which may cut down the amount of games played or how much travelling sports teams do for next year and for the foreseeable future. 
Seniors especially will be affected by closing schools. 
According to Principal Meghan Roenicke, for seniors who are in the process of meeting a graduation requirement by taking a required class, the school will either have to waive that graduation requirement for this year, or find a way to get instruction to those seniors so they can pass the class. 
The graduation ceremony itself will be taking place, but moved to a later, undecided date this summer. Diana Sirko, District 51 superintendent, said she remains adamant about celebrating students who have earned different honors including the graduating class of 2020.
About the Contributor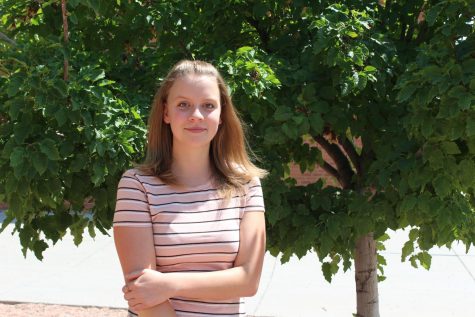 Ashley Guddat, Editor in Chief
Ashley is so excited she is a senior this year! After being a section editor for news during her junior year, and a reporter during her sophomore year,...