The Inside Scoop
Unlike many GJHS highschool students, Katie Fain, senior, can relate to the struggle of managing a very busy schedule, including chores, school work, a sport and even two jobs. One of her many responsibilities is driving an ice cream truck.
Fain drives roughly one to three days a week, and then on the weekends when she's not busy with her other job or color guard. Her ice cream route around the Grand Valley can take up to about 4 hours each day, going out of her way to deliver ice cream.
"I typically start my route going all the way to Canyon View," Fain said. "Then I work my way through the neighborhoods around G Road, then neighborhoods on Patterson." Fain has lived here for eight years, but still finds herself in different parts of the valley that she's never explored. This allows her to discover the best places around town to sell ice cream.
To be an ice cream truck driver, you must be the age of 18 or older, have a valid drivers licence and know how to keep inventory of your truck. To keep up with modern times, instead of using pen and paper, Fain uses an app on her phone called Square.
"It basically shows everything that we have, with the prices," Fain said. "It helps me make sure that for really long orders, I can get my total right and keep inventory."
Although Fain is about to graduate, she would not recommend working two jobs during high school, on top of a sport. She decided to take on another responsibility to her schedule to not only help pay off her car, but to also save for college. Fain says lots of caffeine and self-motivation speeches help get her through long days of hard-work.
"You're definitely tired after a long shift," Fain said. "But it's fun. Please be nice to the ice cream truck drivers, it's a lot harder than it looks."
Leave a Comment
About the Contributor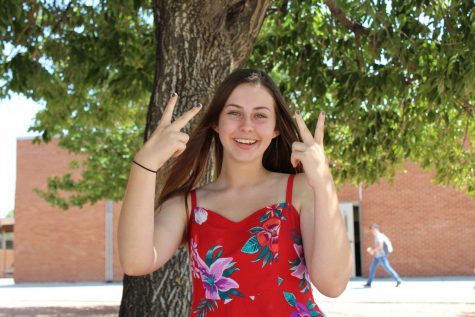 Mckenna Bryant, News Editor
McKenna Bryant is a junior at GJHS and the News Editor on the Orange and Black Newspaper. McKenna loves music, animals, movies, writing, and to travel....