A New GJHS: District Board Meeting
Earlier this week the school board approved a proposal put together by a team of GJHS staff members to apply for the BEST grant.
According to the Colorado Department of Education the BEST grant is an annual sum of money given to schools to construct new buildings or renovate old buildings.
However, if GJHS received the BEST grant it would only cover one-fourth of the available cost. The rest would be collected through bonds.
"I would like to believe that the community would support us because funding is greatly needed," English teacher Mrs. Read, said.
Mrs. Read was one of the teachers put in charge of the proposal.
Even if we did get the grant and passed the bonds in the November ballot, the new school would not be open to students for another two years, minimum.
Principal Meghan Roenicke said the next steps will be to apply for the BEST grant which are due at the end of the month. If the school receives the BEST grant, the next step would be a ballot measure in the fall to raise additional funds.
Rachel Hooper, a freshmen, has mixed feelings about the new school. According to Hooper, building a new school would destroy the legacy and history of GJHS. But she also sees the other side of the argument.
"We are a little outdated, and for future generations it will be awesome," Hooper said.
Leave a Comment
About the Writer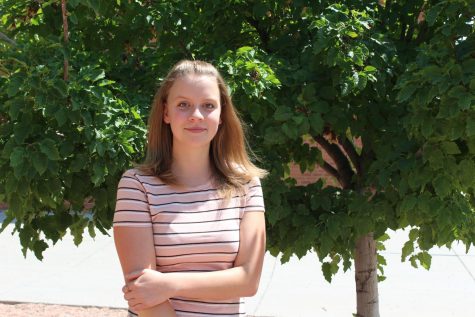 Ashley Guddat, Editor in Chief
Ashley is so excited she is a senior this year! After being a section editor for news during her junior year, and a reporter during her sophomore year,...