Kada Gackle Takes the Bat for the Boy's Baseball Team
One of the baseball teams newest prospective players this year isn't exactly who you think. It's not because they're from canada, it's not because they're smaller than the others.  It's because for the first time, a girl is trying out for the team.
Kada Gackle, a senior, is the first girl ever to try out for the GJHS baseball team.
"It's a little bit intimidating at first, but you get used to it after a few practices," Gackle said.
She moved to Grand Junction this year at the end of last quarter from Canada.
Gackle started played softball when she was 8 and has been playing for 10 years. She said she chose to play on the boys baseball team because when she moved here softball was already over.
Gackle is currently is in pre-season weight training with the team
Coach Justin Little said having a girl trying out for his team is exciting.
"I have never had a girl try out, and it gives the the team an option and opportunity and maybe more girls will try out," Coach Little, said.
Tryouts are february 25th and according to Coach Little, he encourages athletes to try hard, do their best, and don't think of it as a tryout.
About the Photographer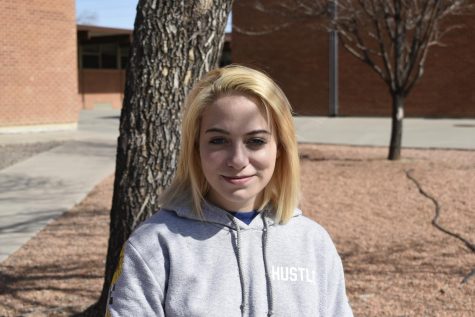 Bree Peet, Photographer
Bree Peet is a junior at GJHS. This is her first year on the Orange and Black Newspaper. She is a photographer. Bree has been drag racing for 7 years and...