Locked up in the Dark
The Lockdown on the eve of Homecoming
Friday Oct. 5, Tope Elementary, GJHS and surrounding homes went under lockdown due to police activity in the area. School staff and police took immediate action to ensure the safety of everyone on and around campus. Mesa County Sheriff's office had received a report of someone with a gun near Tope, and responding officers reported possibly hearing gunshots.
"My dad's friend works for the fire department," Blake Lawton, sophomore said, "He said that there was a guy with a rifle, who was apparently suicidal, and there were definitely shots fired." There were some variations in each story heard, but none of the allegations were confirmed.
During a school lockdown, real or drill, students and faculty are to remain in an enclosed room, with the doors and windows locked, along with all lights, sounds and technology turned off. Everyone must remain this way until notified otherwise by officials.
"I was in creative writing, and I thought it was a drill for a second," Bryce Matrisciano, sophomore said, "My teacher handled it really well because we were quiet."
There was confusion when a second announcement came on an hour or so later. The announcement was for a 'Shelter-In-Place'. A literature teacher, Mrs. Therriault, admitted she was unfamiliar with shelter-in-place, as were others.
A 'shelter-in-place' is "Controlled movement in a building as long as students stay inside, so that there is access to bathrooms." Principle Renocke said.
Technology played a large part in trying to help everyone in the area stay updated on the situation.
"One of my students had live feed about what's going on," Theriault said, "So that was very helpful".
In situations like this, communication can be difficult or even misunderstood causing stress and anxiety.
"I have considered having a text alert app from me to parents and staff so that there is no panic," Renocke said, "Nothing could be improved that the students and faculty had control over, I really think they did amazing."
The lockdown was issued in the middle of a class period, so this lead to a quicker lockup.
"It's very good that it didn't happen while students were off campus," Roenicke said, " If you're coming back from lunch, at your car, or off campus and there is a lockdown issued, it's safer if you get away from the area. I don't want that to sound rude, but it's just so that you're out of harm's way."
When the 'shelter-in-place' was lifted, students were released to go as normal.. A few police were still present during dismissal to ensure safety and to make sure everything was going smoothly. Because of the quick response of police and staff, thankfully, no one was injured during this event.
View Comments (2)
About the Contributor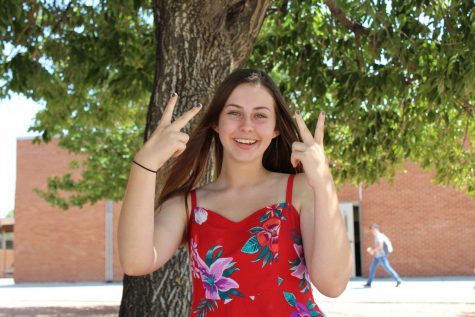 Mckenna Bryant, News Editor
McKenna Bryant is a junior at GJHS and the News Editor on the Orange and Black Newspaper. McKenna loves music, animals, movies, writing, and to travel....