Farewell to Our Teacher/Mom Tiger
Sutton Casey ventures to Alaska for a new teaching opportunity.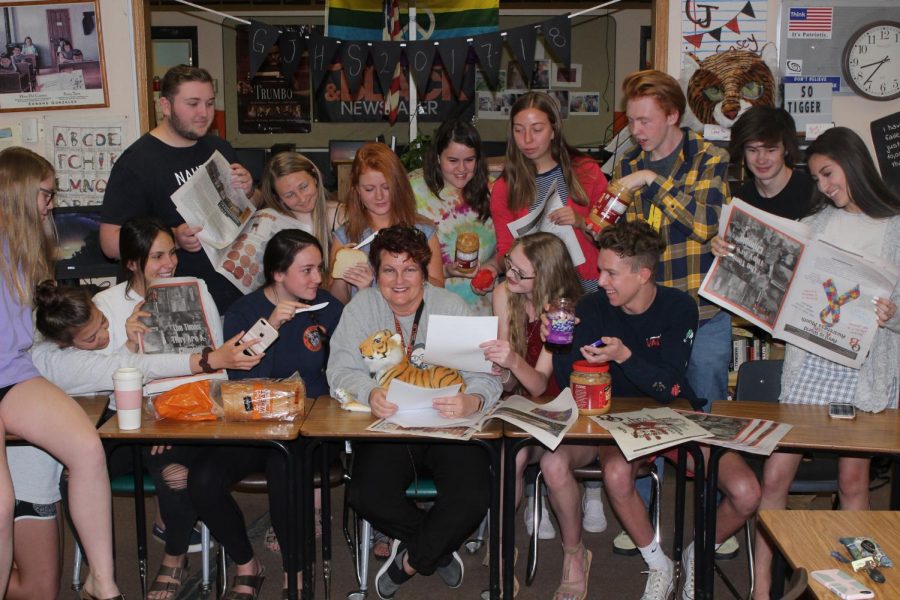 Shannon Clark, Editor-in-Chief
April 26, 2018
31 years of teaching, 2 degrees, 2 CTE certifications,  6,200 students, and the longest working teacher at GJHS. These numbers point to one teacher at GJHS: Sutton Casey. Casey has spent the majority of her life in Mesa County School District 51 and is now embarking on the adventure of a lifetime: a new teaching job in Alaska.
From the age of 7, Casey has been a part of Mesa County School District 51.  She attended Broadway Elementary, Fruita Junior High and she graduated from Fruita Monument High School in 1982. She attended Colorado Mesa University back when it was simply called Mesa College.   Despite her start as a Fruita Wildcat,  she knew that GJHS was her home, and for many students, her classroom has become their second home. The  kitchen is stocked with snacks and students enter her welcoming classroom to a teacher with open arms.
"I came to GJHS because FMHS went to year round school to deal with over crowding and that didn't work with my family. But, GJHS is my home and I treasure the relationships I have with students and their parents. I love that kids come to my room for peanut butter and jelly sandwiches. I always want kids to know that there is a place to be and belong," Casey said.
While opportunities have presented themselves throughout her career at GJHS, she holds tight to her roots as a Tiger. Her fierce personality and creative classes have provided  a job she loves and desires to go to daily. With a love for learning and a knack for creating relationships with students, Casey says she isn't ready to quit teaching but is challenged by the opportunity to teach in a new environment.
The memories and relationships Casey has created make her departure from GJHS an extremely hard decision, as her students have helped shape her into the woman she is today.
"One of my favorite moments was handing diplomas to my sons and to two students who requested that I give them their diplomas because they thought I had helped them graduate," Casey said.
Casey will be taking a job in Galena, AK at the Galena Interior Learning Academy. She will be a teaching World Literature, composition and speech classes to students who come from all over the state of Alaska.   She is excited to have an opportunity to do a little drama in an after school program.  Her husband will take a position as a vice principal.
"When I started teaching, I taught theater and speech at Central High School.  I met my husband at Central, so life has come full circle again," Casey said.
Every student that has walked into her classroom has heard her utter the words; "where is my phone" or "you guys are so funny." While these words will no longer  echo from room 141, Casey wants her students to remember that leaving is not sad, but is instead, a new adventure.
"Everyone needs to leave home and go on an adventure that challenges you and makes you grow. Sometimes that happens when you are 18 and sometimes when you are 54. I say "Carpe Diem." I am going on an adventure with my best friend and I hope everyone gets the chance to have loved home with the same deep affection and dedication that I have. GJHS will always be be my home base." Casey said.
Although Casey will be leaving behind the comfort of her home and her cluttered classroom, she will find herself a new classroom in Alaska, where we know she will touch the lives of many students, just as she has done at GJHS. In the words of Sutton Casey, official GJHS teacher-mom,  "GJ All Day!"