Bringing Home the Big Win
Last week at the Colorado Knowledge bowl our very own GJHS Academic Team took home some very heavy trophies. Working against schools from all over Colorado, the Academic team put their brains to the test in order to secure this championship win at CSU in Fort Collins.
According to Parker Stacy a sophomore at GJHS, bringing home this win was very fulfilling.
"We spend a lot of time working on practice and exercises and it all payed off in the end," Stacy said.
Stacy expresses the amount of trust and team work it takes to be the top team. The competition was no easy task, but the Academic Team was able to pull it together and unleash their knowledge power.
"For the Division Championship we ended on a tie breaker and it was the first of three questions and it was two and two, but we got the last question. It was really close," Stacy said.
Anij Magill, Captain, a senior at GJHS remembers the amount of stress that she felt that final round.
"That question was terrible because when I buzzed in I thought I had lost us the round because no one held out fingers for that answer", Magill said.
In that moment her heart fell until her friend Matthew Chambers reassured her with a nod, confirming that she had answered right and the championship was theirs.
With Magill's outstanding performance in those last seconds, the team's trust, and their friendship, Anij Magill, Anthony Booth, Parker Stacy, Mathew Chambers, Samantha Gillaspie, Amanda Gordon, Noah TerLouw, and Evan Ancell were able to take home the top title.
Leave a Comment
About the Contributor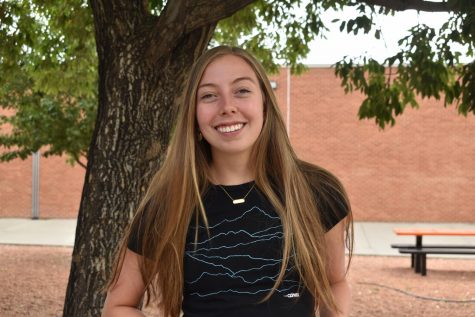 Annika Sisac, Reporter
Annika Sisac is a very outdoorsy and enthusiastic person. She loves shredding the gnar on the daily, including competitive cycling and skiing. She is excited...