Dream of a Championship
Kieran Thompson is a varsity 106 pounder for the number one ranked wrestling team in Colorado.  Grand Junction High School has an extraordinary team and it isn't easy to be on varsity.  Thompson has dedicated his life to wrestling, this regional tournament and state tournament.  He is not only on the hunt for an individual state title, but he is helping his team win the state title as well.
Thompson has been wrestling since he was three or four years old.  Thompson has grown up in and around the wrestling community and has come a long way in his wrestling career to be a part of GJHS's varsity team.  He has spent countless hours in the wrestling room perfecting his skills and preparing to win a state title.
GJHS's regional tournament is on February 9th and 10th located at Arvada West High School in Arvada, CO.
"My thoughts going in are to wrestle every match like it's a state finals match because you can't underestimate any opponent," the freshman said.  The regionals tournament determines qualification for state.  There is lot of pressure to place especially for this competition.  Thompson was very calm and collected; he knew he needed to bring his "A" game to every single match.
"My favorite thing about wrestling is that it is an independent sport, so if you lose you can't blame it on anyone else except yourself, and this pushes me to be a better person and work harder each and every day," Thompson said.
As Thompson reflects on this tournament, he thinks that he needs to improve on finishing out the match and not giving up too early.  The freshman placed third at his first regional tournament.  He describes this tournament as a success and that it placed him in a good position for his state bracket
Thompson will need to finish strong in the state tournament in order to help his teammates win a coveted state title.
About the Writer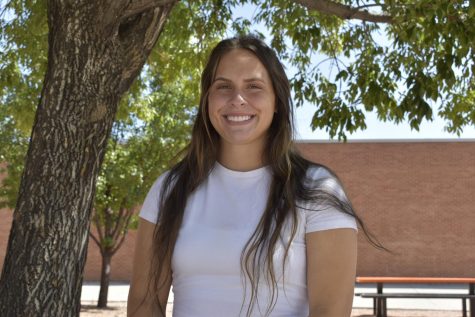 Madi Martinez, Editor in Chief
Madi Martinez is a senior at Grand Junction high school. She has been apart of the Orange and Black Newspaper since her sophomore year. She began as a...