Making A Mark At GJHS
Tonight, January 19th 2017, Shawn Garcia wrestled his last match at Grand Junction high school. Wrestling since the 7th grade up until his senior year of high school, Shawn has accomplished so much over these years. Wrestling is a hard sport to learn, yet Shawn didn't shy down, he took on the challenge and pushed through the exhausting moments, and the constant grind.
Garcia's coach was able to watch him grow as a wrestler for a full four years.
"Shawn has improved drastically. His freshman year he came in, and he was a big kid and he fought hard, but the skills were pretty low. He went about 6 and 24 and today his record is about 29 and 3," Cole Allison said. No matter how often Garcia lost a match, he did not put his head down, and give up. Garcia took failure as a sign that he needs to work on developing his skills and shape. After four years all of his time, and effort is paying off.
On top of that Garcia plays football on the varsity team, so he is a two varsity athlete. Garcia was named Grand Junction football defensive player of the year. Garcia puts all he has in the sports football, and wrestling, and he is looking to play football in college.
"Wrestling in college in not really the main goal because wrestling is definitely a tough sport and gets a lot harder in college. I just want to go to school and get my school paid for," Garcia said.
Wrestling has taught Garcia so many things, and has overall helped him become a better person. This sport has always been a big part in his life, and at one point he did quit, but when he decided to come back, he started to succeed even more. Wrestling became something he really loved to do, and he will always love this unique sport.
"Wrestling has taught him self-discipline, and to be confident, and not cocky," Yvonne Garcia said.
Over the years Garcia has faced the worst and the best. From losing, to winning. Even having all of his teammates count on him in order for his team to defeat the opponent in a dual. Shawn has learned a lot, and now he is able to help others improve.
"We have others in our family that wrestle, and him being the better one, and how he willing to help his brothers and his sister with it is a great and helpful thing to our family," Yvonne Garcia said.
Shawn's freshman year he was at a higher weight so he was put in right away and it was very challenging for him to be on the varsity team. "Shawn did not have a lot of success, but he just persevered, and got much better," Allison said.
About the Writer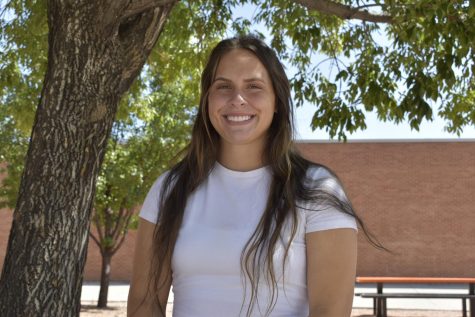 Madi Martinez, Editor in Chief
Madi Martinez is a senior at Grand Junction high school. She has been apart of the Orange and Black Newspaper since her sophomore year. She began as a...